LARGEST LAMINATE FLOORING MANUFACTURER IN THE NORTH OF CHINA, We have established cooperation for more than five years with clients from UK, France, Italy, Australia, Canada, Colombia, Ecuador, Peru, Malaysia, Thailand, Saudi Arabia, Dubai and so on. Our factory has 12 automatic production lines, with a monthly production capacity of 3 million square meters, hundreds of floor surfaces, tens of thousands of popular colors, to meet the needs of customers in various countries.

Advanced Production Equipment:
We introduce 9 most advanced HOMAG international production line and 7 most advanced HAOJING national production line, 4 Samsung FAST production line, 3 WEINIG production line, 7 super high pressure machines. We apply the modern molecular vibration technology for degreasing and drying, according to the ambient temperature and different raw materials. Moreover, we apply the second dry to ensure that the floor is not deformed.
Quality Control:
Adopting the rigorous technology of Germans and their flooring technique, we set up our own Independent R & D center, concentrated on the design and innovation of flooring. The inspection of finished product is the last step to control the quality, and also is the crucial step. The testing must make sure these three aspects: the samples must be 100% pass the test; all the flooring should be tested completely according to testing process; the material must meet the international standard. In our testing room of finished product, we test the flooring by all kinds of quality inspection.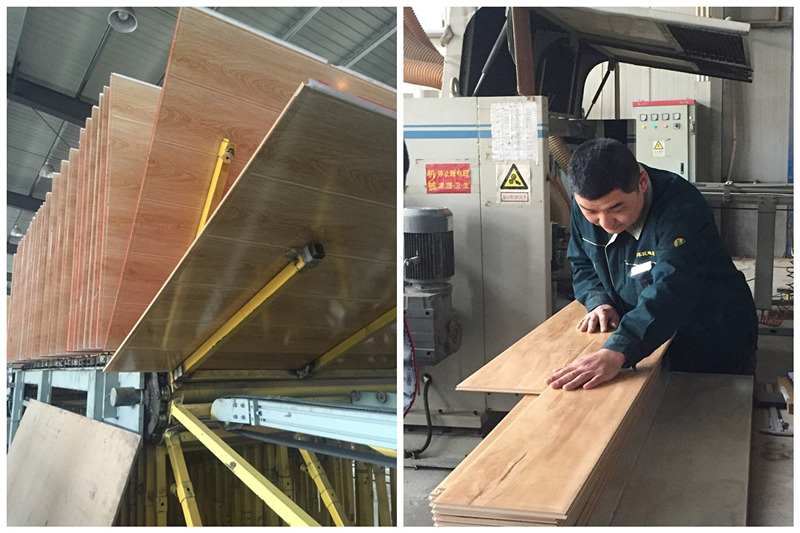 Thousand of fashion colors:
We provide thousand of colors of flooring, following the popular color trend of flooring in the European market. We introduce hundred of unique colors popular every year from Germany and Spain, to help our customers to expands market.
The excellent designers not only realize the weather differences of the Northern and Southern hemispheres, but also the customers preferences from different age group, the different purpose and adornment, combining the design element of Germany. Finally, they present all the attractive colors to our customers.

"Decade of sword", by our efforts, we believe that our flooring will become the preferred choice for all the customers and our factory will become the pride of China's flooring industry.
We provide Russian, Spanish and English services. We hope we can establish good cooperation!