laminate flooring skirting board accessories molding
Product Details:
Model: 45mm/60mm/72mm/80mm/96mm
Brand Name: OEM/Luckyforest
Material: MDF
Application: Wall, flooring
Certificate: ISO9001, ISO14001, CE
Length: 2400mm
Feature: Durable
Color: Oak, Roble, Walnut, Cherry, Maple, Wenge, Grey, Others.
OEM & ODM Factory:
1. Reasonable Price, Quality Assurance:
Factory direct sale,Special quality-control inspector before shipping.
Our free sample as a rail order for you,you will know if our quality meet your request.
3. Accept Custom Services:
Please provide us the size and color artwork, referenced picture with specific details.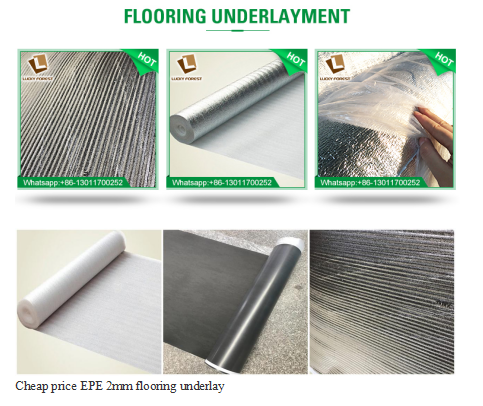 Product Description
1.We bring many years of experience in the industry to each project we undertake. We combine our expertise and commitment to quality with the best materials.
2.We have the art tools and equipment to offer the best services. We aim to provide a project without too complex, too big, or too small. We are certificated and insured you a protection in place.
3.These stunning planks can be used on accent walls to create a warm, rustic look popular with many decoration trends
4.With our rapid-locking system for DIY installation, you can install this easily and it's perfect for your own home decoration.
What is underlayment?
Put simply, it is thin foampad, often made of EPE polyethylene or polypropylene, which is laid on the sub-floor before installing the laminate. Most laminate floors on the market today require an underlayment to be installed. While there are manufacturers who effer floors wiht an underlayment attached, this is a special feature and is not included in most products.
| | |
| --- | --- |
| Item | Description of underlayment of laminate flooring |
| LSA-1 | 2mm EPE one side with 0.01mm virgin plastic film |
| LSA-2 | 2mm EPE one side with 0.02mm recyled plastic film |
| LSA-3 | 2mm EPE one side with 0.04mm recyled plastic film |
| LSA-4 | 3mm EPE one side with 0.04mm recyled plastic film |
| LSA-5 | 3mm EPE one side with 0.04mm virgin plastic film |
| LSA-6 | 3mm EPE double sides with 0.04mm virgin plastic film |
| LSA-7 | 2mm EPE one side with aluminum film |
| LSA-8 | 3mm EPE one side with aluminum film |
As an huge factory of laminate flooring of Northern China,we can provide the Skirting board that match the color of the flooring.To sace the transportation cost, you could ask to put the laminate flooring and skirting board into the same container.
Costomer satisfaction if our pursuit of the highest goal.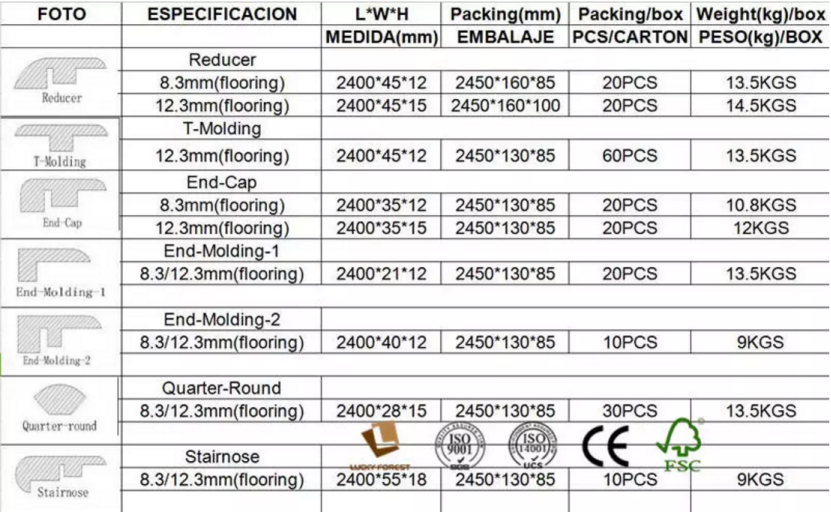 Luckyforest is the largest laminate flooring manufacturer in northern China, which can produce the most complete laminate flooring surface: Crystal, Small embossed, Medium embossed, Big embossed, Texture,High glossy, Matte, E.I.R, Wood Grain, Hand scratched, EVA underlayment.
Product Description
1.We have various thickness option for you with a more stable floor and natural wood floor.
2.It's ideal for kitchen, bathrooms, basements,restaurants,gyms and subgrade installions and so on.
3.With our rapid-locking system for DIY installation, you can install this easily and it's perfect for your own home decoration.
4.One of our floor characteristic are easy to clean and water resistant.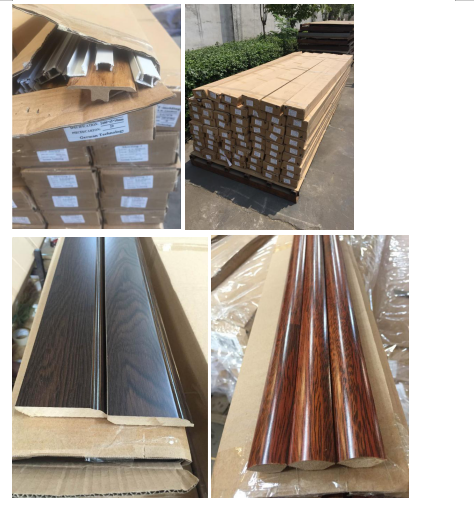 What kind of service you can get from us?
Flexible payment terms: L/C,T/T,D/P can be negotiate.
Fast delivery time: 21 days after order confirmed,or by negotiate.
Quality warranty: Make sure everything well done before products leave our factory,take all the responsibility if there be claim.
Free sample: can be sent to you by courier or put into your container
Timely and effective communication,keeping innovation on surface texture and colors,sample free provide etc.

Advanced Production Equipment:
We introduce 5 most advanced HOMAG international laminate flooring production line and 6 most advanced HAOJING national laminate flooring production line, 3 SAMSUNG FAST production line, 5 WEINIG flooring production line, 7 super high pressure machines. We apply the modern molecular vibration technology for degreasing and drying, according to the ambient temperature and different raw materials. Moreover, we applay the second dry to ensure that the laminate floor is not deformed.
Quality Control:
Adopting the rigorous technology of Germans and their flooring technique, we set up our own Independent R&D center, concentrated on the design and innovation of laminate flooring. The iinspection of finished product is the last step to control the quality, and also is the crucial step. Th testing must make sure these three aspects: the samples must be 100% pass the test; all the laminate flooring should be tested completely according to testing process; the material must meet the international standard EN13329.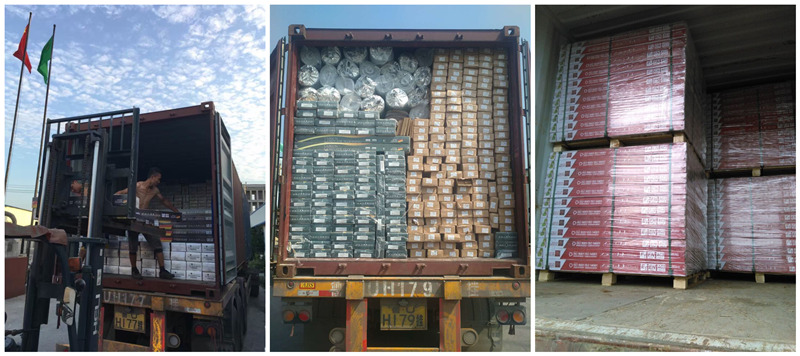 The Biggest Laminate Flooring Factory In Northern China
As one of the largest factory of laminate flooring in the north of China, We possess a modern production base of 50,000 Square meters. We has been focusing on manufacturing, researching and selling flooring products with up to more than 10 years experience, we provide OEM brand services for the customers around all the world. And We also have our own brands like "LABSUN®", "LUCKY-FORREST™".
VIP SHOWROOM
VIP showing room. We possess hundreds of unique surfaces of laminate flooring 8 mm and 12 mm, we also import special colors of German and Spanish designers to satisfy the demands of customers in Europe and North America.
Welcome The Customers All around The World To Have A Visit To Our Factory!